Women's Evolution
A weekend retreat for women
November 17-19th, 2023
Women desire connection with other women for a myriad of reasons...
To begin to fill your cup involves your own wisdom and is especially potent when that wisdom is reflected within a community of women that are dedicated to personal and professional growth as well.
There is a growing consciousness, an evolution if you will, of women remembering who they are and what they need in ways they never have had time and space to before...
Come join us, Women Who Are Up To Something and a community of women who are ready to rest, restore and allow for space and time to regenerate themselves. It's time for YOU to focus on your beautiful amazing Self. Time for us all to pause, move our bodies and play. To breathe deep and take in the present moment without urgency or feeling rushed.
We have created such a space for you, the evolving woman
Discover what elicits JOY within you... Feel into what energizes and excites you... what inspires you and gets your vitality up. 
Gather new tools and practices for longevity, sustainability and resilience for everyday, and in the face of challenges.
Let other women serve as your reminder to look within to recover your deep wisdom and grace, to share vulnerably and to allow yourself to thrive in celebration and in the face of overwhelm and challenges.
Come connect, be inspired, build new friendships and play, immersed in the peace and calm of the redwoods!
 Expand and enhance your super powers.
Embrace and embody abundance and beauty. 
Sooth your soul with play and self empowerment.
Connect with other amazing heartfelt women like you!
Let's break you free of old habits, fears and beliefs that no longer serve you!
 Express your true self and open to your own divine guidance in the safety and company of other women:
-Dedicated to feeling comfortable in their bodies
-Ready to be loved affirmed by other women
-Determined to release and move through setbacks, challenges and feelings of overwhelm or anxiousness from the past.
Guests will arrive at a beautiful retreat center on the evening of Friday, November 17th, welcomed by the Women's Evolution hosts.
Friday evening, we will have a circle of amazing women who will introduce themselves who will be teaching classes on topics of health, communication, movement, creativity, healing, peace of mind, self compassion, inner strengths and more! Then you get to choose what classes you want to attend.
Saturday we offer 6 classes throughout the day for guests to chose from, ending the day with sound healing for the entire group.
Massage, private sound healing sessions, other services and magical goodies will be available for purchase to guide, support and encourage more grace on your journey thereafter*. 
Sunday the 19th we offer our final 2 classes, have lunch and then close with a powerful gathering to complete the weekend all together in the late afternoon. 
Delicious meals will served from Friday evening dinner to Sunday lunch. Your accommodations are sweet and cozy at the Green Mountain Retreat Center where we will all be together, having meals and attending classes. These extraordinary grounds are available for you to explore and bathe in nature. All included in your registration.
*Additional services, private room upgrade and a variety of products available for purchase.
Classes to chose from are taught by women passionate about giving YOU resources, treasured tools and practices that they have dedicated their lives to because they know clearly, what makes a difference for women's healing, growth and evolution.  
It's time girl.*
We look forward to having you!
*This event is multi-generational and gender fluid for any woman who identifies as such, of all ages. 
Come as you are, this is not about showing up perfect nor having to perform. 
See listing of classes and presenters below...
The weekend includes an abundance of classes to be presented by the incredible women below. You can browse and choose what you'd like to experience, explore and learn more about... enjoy!
You are welcome to follow up with presenters as they all offer professional services and events far beyond our time together. Every woman offering her gifts is inspired to contribute to YOUR evolution for better health, fulfillment and joy!
Sound Healing 
Livi Love is a heartfelt movement dedicated to nurturing the radiant, boundless love within us all. Blending ancient wisdom and modern practices, Livi will guide you to release, rejuvenate, and rediscover the essence of your being.
Livier Gutierrez offers a harmonious blend of spiritual mentoring, massage therapy, sound healing, and more, inviting you to embark on a transformative journey towards holistic well-being and profound rejuvenation. Her practice is Livi Love: Your Haven for Vibrant Infinite Love
She will be offering private sound healing sessions in addition to a group sound bath for all participants!

Inner Strengths are your Super Powers!
Get ready for an interactive workshop that will change how you approach your life at home and at work. Together, we will learn how activating your strengths instead of worrying about your perceived shortcomings will allow you to live a more fulfilled and meaningful life!

In this workshop, we will:
1. Identify your inner signature strengths
2. Explore the meanings of your strengths
3. Learn how to begin activating these strengths for growth in all areas of your life
4. Flip the script on "weaknesses"
Jennifer Young has been working in the field of human development for over 35 years in a myriad of leadership roles. In these roles, she has trained individuals, employees, and leaders in various businesses and not-for-profit organizations. She is also skilled in business development, team building, public speaking, coaching, and event planning and management. While she now
owns several businesses, what brings her the most joy (besides spending time with her grandkids), is bringing women together in community. She loves to help women see themselves as the Superheroes they are, by teaching them about their Inner Strengths so they can thrive and live a more fulfilled life.
Belly Love
 Come honor your body temple by surrendering to Belly Love. Let's journey into the belly through meditation,. Empower yourself with guided and free expression Belly dance. Learn belly massage techniques for home use and with a partner.
Your fun belly exploration awaits.
Kai Chope has a background in Holistic Bodywork, Essential Oils, Flower and Gem Essences, and Western Feng Shui. She studies nature intelligences and how they help us in Physical, Emotional, Mental, and Spiritual ways. She is humbled daily by the ways of mountain top living where she lives in the Santa Cruz Mountains. She studies dance and singing, makes natural products, and continues to learn new ways to be a daughter of Mother Earth to feel at home in her body and where she lives.
Creativity In Motion
Through playful exploration, we will tap into the freedom of creative expression, embracing mindfulness, movement, and dance as a means to connect with our bodies and our creativity.
Together, we will experience the flow of energy as it moves through our bodies giving us access to the joy of self-expression. With the use of a colorful collection of music, we will channel our movements into expressive marks and drawings on paper. 
Our focus will be on the 
process of creating rather than on any final product. 
As we mindfully engage in the creative process, the flow becomes 
a dance of the soul, where time ceases to exist, and we become fully present in the moment.
Your desire to play and willingness to move and have fun is all you need as a pre-requisite.
Wendy Meg Siegel is a mixed media artist, in love with the process of creating. She delights in the experience of applying paint to canvas, constructing layers, and adding texture to her paintings. Her greatest inspiration comes from spiritual concepts, ancient wisdom, and all that connects us to one another, to our collective history, and to that which lies beyond the physical world. Wendy's dedication to sharing her art and creative journey is an inspiration to others, encouraging them to explore their own relationship with creativity.
In addition to her artwork, Wendy has published two gratitude journals, The Gratitude Habit and Parenting the Gratitude Habit. These journals offer a simple yet powerful tool for cultivating greater joy and happiness in everyday life. Most recently, Wendy collaborated on the Amazon bestseller, The Creative Lifebook, as one of the co-authors. Website: www.wendymegsiegel.com Instagram: @WendyArtsStudio
Fierce self-compassion
As an embodied relational practice to help women tap into our inner mamma-bear warrioress, so we can rise up, speak up, reclaim our power, and make a difference in the issues facing our world today. Based on the work of Kristin Neff, in this experiential workshop we'll explore both sides of the tender and the action-oriented sides of self-compassion. Through self-reflection, group dialogue, and learning embodied practices to integrate it into our daily lives, we can heal our wounds from the inside out with the medicine of our own loving connected presence, and call upon the tenderness and fierceness that are our birthright.
Silvia Austerlic, intercultural educator, facilitator and consultant , founder of Senti-pensante Connections www.senti-pensante.com, whose mission is to bridge inner work and social justice in service of individual transformation, social change and collective action. Since the breakout of the global pandemic in early 2020, Silvia has designed and facilitated "safe and brave spaces" in diverse community, professional, and academic settings; integrating theory, experiential activities, skill development and community-building. Her aim is to inspire, encourage, and guide individuals and groups to connect with themselves and others in more centered, resilient and caring ways; through authentic courageous conversations that lead to healthier, more inclusive, and fulfilling ways of being, knowing and living.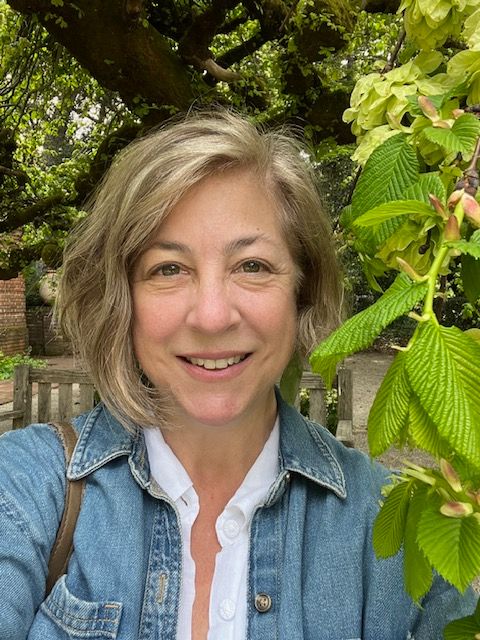 Mandalas: A Creative Journey with Fresh Flowers & Watercolors
Come play with flowers and paints in this fun & simple watercolor mandala class.
The mandala is a beautiful circular patterned portal for creativity, ideas, emotions,
and dreams. It is a powerful manifesting tool as well as a calming meditation practice. The mandala is a safe place to simply be present and journey into the heart center. In this class we will start with a short guided meditation to connect
with our inner creative spirit. Then explore color, shape, & pattern using fresh flowers to create a 12"x12" personal flower mandala. Then we will use our flower mandala as inspiration and paint a 12"x12" watercolor mandala on paper to take home. This process is fun and transformative, and beautifully creative! I hope you will join me for this deeply meaningful expressive art experience.
Wendy Nolan is an Artist, Art Teacher, & SoulCollage Facilitator. She was also a yoga teacher for 15 years, has been married to her husband for 25 years and has two grown children. She is a grandmother, wife, sister, friend, artist, art teacher, nature lover, & spiritual connector. Life offers us many opportunities to grow, and we can decide how we will define ourselves from that growth. We can be battle weary and beaten up or we can be not only survivors but joyful creative thrivers! We all have the capacity within us to create a peaceful & meaningful life
filled with love. Wendy teaches online watercolor & mixed media art classes, seasonal in person art classes at Capitola Recreation, and hosts SoulCollage gatherings at her home. For more information contact [email protected], or visit website www.mandalawendy.com.
Embracing transitions as a rite of passage
We all experience changes and challenges in life.
Marriage or divorce. Losing a job or getting a new one. Moving into a new home and out of an old one. Getting an illness or injury or surviving and healing through one. Having children or having them grow up and leave home. Retirement or menopause. 
Moving through transitions with growth, grace and ease is the best we can hope for as they cannot be side stepped or avoided.
 When we embrace our process, once on other side, we become more clear, confident and connected to our authentic selves and the relationships that mean the most to us.
 When the storm comes, the trees rely on their roots to hold them strong. We compost what begins to rot and decay so that new life and new beginnings can be sustained from what we release.
 Come learn tools and practices to add more consciousness and joy to your transitions and changes. Allow your transformation to move through you with more effortlessness and awareness as you lean into trusting your journey more authentically. 
You will have the opportunity to join me on a journey there after to enhance whatever you're up to. You will also receive gifts and tools to utilize in the days and weeks to follow.
 I look forward to seeing you and hearing what's moving in your life. Bring something to write on and with, your open heart and willingness.
Bernadine Rosso-Galarneau has called Santa Cruz her home since 1994. Immersed in this unique culture, she has had two home births, ran women's full moon circles for over a decade, became a massage therapist and ontological coach, founded a rite of passage program for teen aged girls, and transformed her experience as a single mom from surviving to thriving between 2007-2020. She married an incredible man in 2021 and is now a step-mother and grandmother to her son's 2 children. Currently she works with clients at The Healthy Dragon  in Santa Cruz, Ca. She is the founder of Women Who Are Up To Something and the Women's Evolution retreat weekend!
@womenwhoareuptosomething
An Experiential Introduction to Nonviolent Communication (NVC)
NVC has been called the language of life-a model of speaking and listening from the heart; the language of compassion - a conflict resolution tool; a guide for personal development; and a spiritual practice. Whether it's your first introduction to NVC or if you are experienced, come reinforce skills of communication that foster respect, peace and connection and support.  
Terry Williams, Ph. D. integrates a wealth of experience in adventure and nature based learning, coaching, leadership and organizational development in her work with people from diverse backgrounds within schools, non-profit organizations and corporations throughout the U.S. and internationally. Focused on strength-based experiential curriculum, she facilitates programs emphasizing participatory processes, performance, and teamwork. Terry is a certified coach, CEO and founder of The Children Are Our Future, a positive youth development organization with a focus on Leadership and Community Transformation for children, youth, and the adults in their lives. Her vision is to share her gifts of service, enthusiasm, and joy in her work with youth and adults. To inspire and offer challenging opportunities for them to discover their gifts and talents to make a difference in their own lives, within their families and in the communities they live in.
Abundance at your fingertips
Are you a Peacock or a Crane? At this workshop, we will go on a journey to explore your
money beliefs, your money stories, and your way of being. With that deeper understanding of yourself, you will be able to see more clearly of your true capacity to receive all that you desire. Say goodbye to self doubts, self judgment, and shame around money. With new found confidence, you can finally start living a life filled with purpose & abundance.
Yulin Lee helps women re-write their money stories & create sustainable wealth to achieve financial independence. She has achieved her own financial freedom through learning to invest early on and making every dollar work for her. She is passionate about guiding more women onto the path of living a purposeful life where money is an enabler to their
dreams rather than a hindrance. In addition to empowering women with their
finances, Yulin also provides Financial Literacy education for teens & young adults.
Yulin is a Money Empowerment Coach, Author of Unleashed, Tapping Into Your Feminine
Instinct to Create Financial Independence.
Registration is open
If you're ready to reserve your spot, $699 covers 2 nights stay, 6 delicious meals with everyone, use of the retreat facilities and grounds, and attendance to any and all classes you choose over the weekend. Use the code $299DEPOSIT to register with an initial non-refundable deposit. Full registration allows cancellation up to 30 days prior unless emergencies arise.
Register